Disability in Rural America
Copyright

2017

Published Date

02/07/2017

Published By
The number of people living with disabilities in rural America is growing. And it's a problem that is not often discussed or even fully understood when formulating policy and programs meant to help those with disabilities. There are significant differences between urban and rural impairment rates. For example, impairments leading to disability in non-metro counties is 16.5 percent compared to 13.4 percent in metro counties. Theses differences open up needed discussion and opportunities to further explore the geography of disability.
How does the American Community Survey measure disability?
The ACS does not directly measure disability, but rather defines functional impairments. If a person has at least one of the following impairments, then they are deemed as having a disability:
Hearing difficulty
Vision difficulty
Cognitive difficulty
Ambulatory difficulty
Self-care difficulty
Independent living difficulty
Disability in the US
Disability varies widely across the country, but it's imperative to notice where it occurs since the environment can lessen or exacerbate the impairment. Limited access to housing, transportation, employment, and specialized health care are a few of the issues people living in rural counties already face. The map below shows that parts of the Midwest, south, and Appalachian regions have higher percentages of people living with disabilities. It provides an opportunity to explore the different impairments in different urban-rural environments.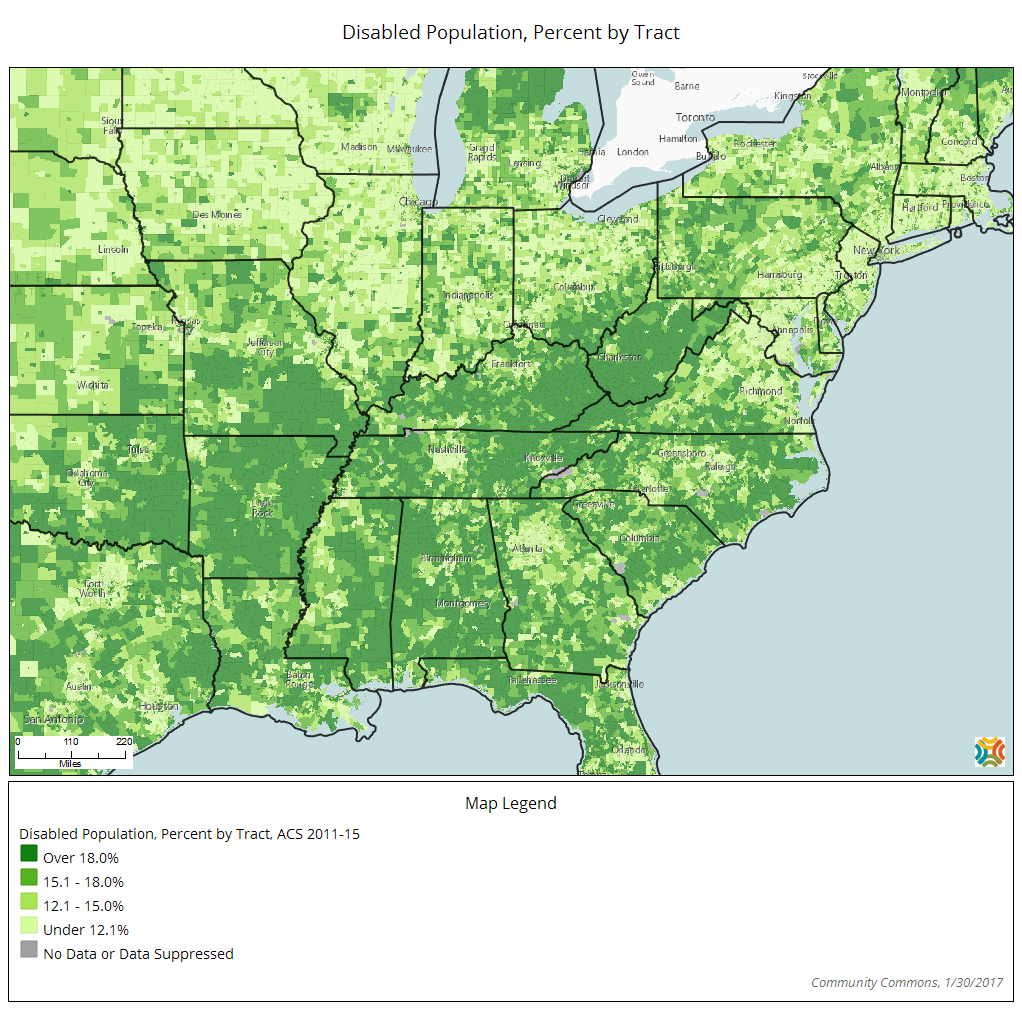 Clinical Care
How is the availability and effectiveness of clinical care in counties with high disability rates?  In the map below, the health of all counties are measured and ranked within the state. County Health Rankings assesses clinical care based on quality and access to health care. It also shows there are many areas where disability rates are high, but access to clinical care ranks low. Access to health care isn't only important for overall physical, social, and mental health, for those with disabilities it's important to have access to specialized health services.
Accessibility means the patient has the resources (i.e., insurance) to pay for services, has transportation to reach the service site, the ability to understand and communicate with their provider. Quality means the health care is affordable, safe, and timely. County Health Rankings uses three measures to assess health care quality in each county: preventable hospital stays, diabetic monitoring, and mammography screenings.
Rural areas generally see less access to affordable, quality care. Transportation and the distance needed to travel to health care providers, especially for those with disabilities, is a barrier. Poverty rates and unemployment also tend to be higher in some rural areas, resulting in many not having insurance nor the resources to pay for health care services.
New ACS data highlights the differences between disability in rural and urban environments. It's important to understand because the environment the person is living in has a significant impact on how that person experiences a disability. And when talking about disability the difference between the two environments is not usually a point of discussion. The new data offers an exciting opportunity for disability advocates, policymakers, and communities to formulate policy that considers the limitations of the environments people live in.
View Story