Improving Veterans' Access to Mental Health Treatment
Copyright

2017

Published Date

06/07/2017

Published By
Day after day, the service of men and women in the United States military protects the lives of millions of Americans. But when they return home, these veterans often fail to receive the mental health services they need. In fact, many veterans are not receiving any treatment for serious mental illnesses that affect their daily lives.
The Problem
Insufficient mental health care for veterans can aggravate health problems among a demographic especially prone to mental illness. One in five veterans who served in Iraq or Afghanistan has major depression or post-traumatic stress disorder, and one in four exhibits symptoms of substance abuse disorder. PTSD, which usually begins to take effect after a veteran has been home for three to four months, is strongly connected to traumatic brain injuries, another major mental health concern among veterans.
Despite this known prevalence of mental illness among veterans, half of veterans who require mental health treatment will not receive it due to a number of factors reported by the United States Government Accountability Office, including:
Personal embarrassment about service-related mental disabilities
Long wait times to receive mental health treatment
Shame over needing to seek mental health treatment
Fear of being seen as weak
Stigma associated with mental health issues
A lack of understanding or lack of awareness about mental health problems and treatment options
Logistical problems, such as long travel distances in order to receive this type of care
Concerns over the veteran mental health treatment offered by Veteran's Affairs
Demographic barriers and false perceptions based on these demographics such as age or gender
Some of these factors, such as personal embarrassment and shame regarding mental illness, require education and changes in individual, structural and societal beliefs. Other factors, however, have potential for improvement through a few practical solutions.
Improving VA Treatment
Even more disturbing than the fact that only half of veterans who require mental health treatment receive it is that when veterans do seek mental health treatment, only a little more than half are given "adequate care." A 2016 report from the Veterans Health Administration found that despite recent reform efforts, the agency still struggles with issues such as "flawed governance, insufficient staffing, inadequate facilities, antiquated IT systems and inefficient use of employees." In December, USA Today reported from internal VA documents that Texas and Tennessee have some of the lowest-rated VA medical centers in the country, despite the fact that Texas has the most veterans of any state after California. These problems may lead veterans to avoid care, especially because in order to receive private care through the VA, veterans must wait more than 30 days, live more than 40 miles away or face excessive travel burdens.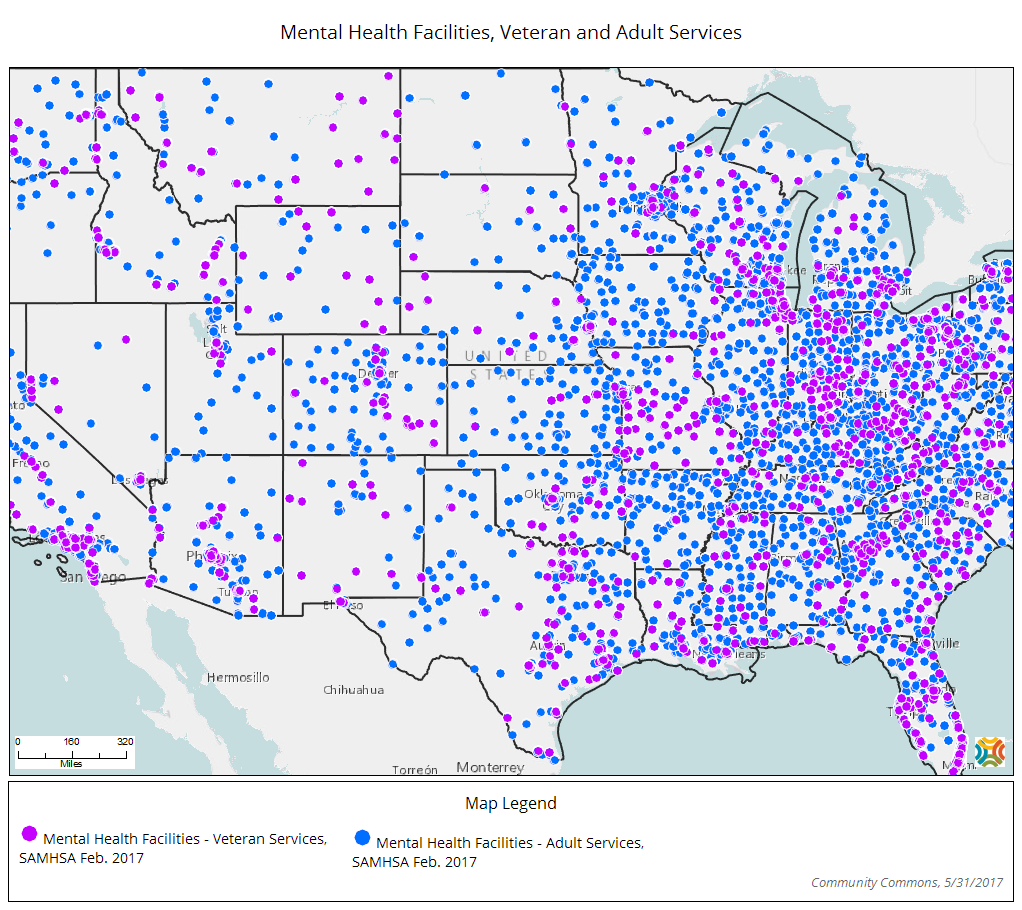 Expanding Telemental Health Programs
A long distance between home and any hospital often discourages veterans from pursuing treatment for mental illness. Since 24 percent of veterans live in rural areas, telemedicine programs have shown success in bringing care to this underserved population. Telemedicine allows veterans to receive care from the privacy and convenience of their home, which is also helpful for individuals with movement-related disabilities and mental health stigma concerns. According to VA Secretary David Shulkin, telemedicine programs have decreased days spent in bed by 56 percent, re-admissions by 32 percent, and total psychiatric admissions by 35 percent, and overall, veterans are very satisfied with telemedicine programs. Last May, the department announced plans to build five new Telemental Health Clinical Resource Centers to expand its online reach even further.
Grappling with the Consequences
Untreated mental illness can greatly increase a person's risk of suicide. Although veterans account for less than nine percent of the United States population, 18 percent of all suicides in the U.S. are committed by veterans. About 20 veterans commit suicide each day, and Shulkin has called suicide among veterans "a national emergency."
To combat high suicide rates, the VA announced in March its plans to expand mental health care to former service members with "other than honorable" discharges for misconduct such as violence and illegal drug use. To accomplish this, the VA plans to hire 1,000 additional mental health providers by June or July and establish mental health phone service centers for rural residents.
Veterans and concerned loved ones can call the Veterans Crisis Line at 800-273-8255 and press 1 to talk with someone or get help at any time.
Access to quality mental health treatment is a serious need for veterans. If we truly support our troops, we must honor them not only while they are actively serving us, but also in the weeks, months and years after they have returned home.
About the author: Ruby Redekopp is a University of Missouri journalism student from Hutchinson, Minnesota. She is passionate about helping people who are disadvantaged and plans to work in nonprofit public relations.
View Story
Related Topics
---